Wellbeing and support is at the heart of our teacher training programme
"A key factor in trainees' good and outstanding progress is the outstanding quality of the mentoring. Mentors and professional tutors have exceptionally high expectations of the trainees." Ofsted, November 2015
Following a review of the Department for Educations: addressing teacher workload in Initial Teacher Education (November 2018) we reviewed our practice.
Taking account of the Dfe's evidence and our own research we identified the following six aspects which, could create stress during the ITT programme:
Demands – such as a trainees workload or work environment
Control – a trainees own influence over how their placement and work is carried out
Support – from colleagues, mentors and partner organisation
Relationships – to reduce conflict and deal with unacceptable behavior whether from a colleague, partner or fellow trainees.
Role – understanding of the training programme, pinch points, its content and teacher standard expectations
Change – how change is managed in the organisation
From these identified areas we are developing a wellbeing Policy to ensures our Mentors and Partner Schools will be confident to ask key questions that will address any trainee workload / wellbeing issues during the course of our programme.
To further support our trainees this coming academic year we have also developed a trainee wellbeing support service that will offer our trainees access to the tools and support needed to improve their overall health and wellbeing. This support service includes access to trusted health information such as counselling and GP support should it be needed during the programme.
Along with many other wellbeing initiatives we believe that our SCITT is leading the way on the governments focus to scrap burdensome workloads for trainees and this enable our trainees to focus on effective time management and resilience strategies to thrive as outstanding teachers.
Click HERE to view our 50 daily ways to take care of your wellbeing poster
Click HERE to view our Jan 2020 - Trainee Well-being newsletter
From 2019 our fully funded trainee Wellbeing service whilst on programme includes:
| Benefit | What's covered |
| --- | --- |
| GP Services | 24/7 access to a GP helpline, either by phone or webcam. All doctors are NHS practising GPs and registered with the General Medical Council |
| Employee assistance programmes | Advice and counselling, with up to six structured counselling sessions (per person, per issue, per year), either by telephone or face to face |
| Expert health information | On treatments and conditions, lifestyle management and travel information |
| Lifestyle benefits and discounts | Including discounted membership at over 3,000 gyms, sports equipment and family days out |
| Health evaluation tools | Health screening and online risk assessments |
| Social benefits | A calendar of social events throughout the year for trainees to network and celebrate their successes. |
Further Wellbeing Tips and Support
Support Network: Your support network should include: you lead mentor, your school mentor, your class teacher and other trainees on the course, do be afraid to ask for help or advice.
Work Life Balance: Having a social life and interests outside of training is really important. It can help when you are overwhelmed. Gentle repetitive exercises, such as walking or swimming or cycling are good to relieve stress. Medication, yoga, pilates and dance are also helpful. The trick is to find out what best suits you best. Hobbies that focus attention are also good stress relievers.
Organisation planning in advance: Take time to have a look at your timetable and organise yourself accordingly, don't let things creep up on you, know what is happening and when to prepare for these events.
Calm / Mindfulness: Find your send of calm – if mindfulness is for you 'Headspace' is a free application on most smart phone and can be found at www.headspace.com
Education Support Partnership: Education Partnership is a charity set up to support education staff. This offer an additional support service to the Trusts wellbeing fully funded support offer. Their vision is to ensure that Educational staff are resilient and empowered to work in their environment. They offer FREE mental health and wellbeing support services to all people working in the education sector. The helpline is available 24/7, 365 days a year. You can learn more at edsupport.org.uk or by calling 0207 697 2750.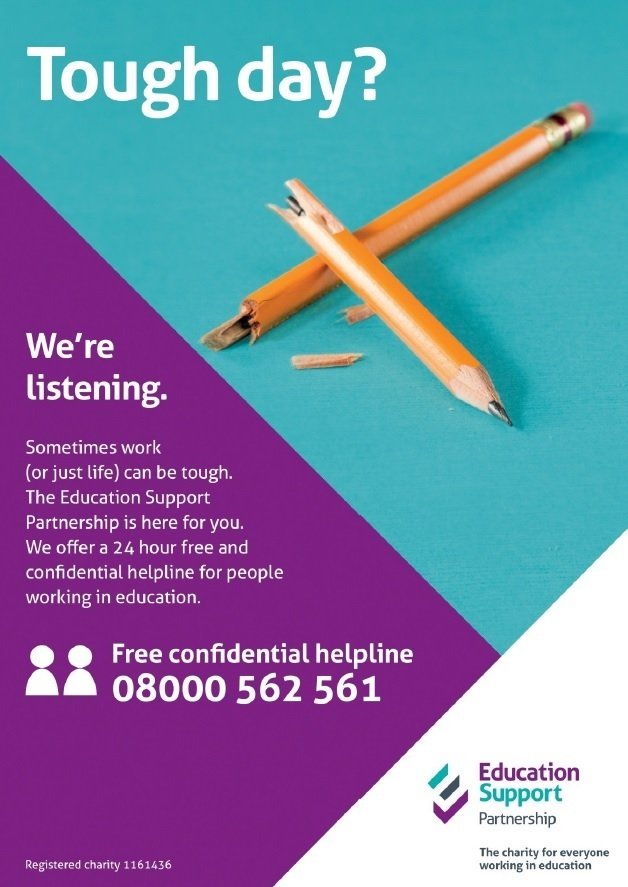 Updates / Background:
Damian Hinds, Education Secretary recently announced the launch of a expert group to work with the government to look at how to promote better Wellbeing for teachers.
Mr Hinds says:
Teaching is one of the noblest professions in the world - the chance to change lives and help young people build a future is what makes it a calling not a career. Teaching requires high levels of selflessness as teachers always put the good of their pupils first.
Like any really important job, teaching comes with its own challenges and, whilst rewarding, I don't need to tell you how stressful it can be. As a society there is a much greater level of understanding about mental health and wellbeing and it is something many of you raise with me when I visit your schools. Whilst those conversations are focused on supporting your students, I'm clear that your wellbeing is also something we need to prioritise.
As part of the recruitment and retention strategy we want to help you all provide supportive schools culture and as part of that today I'm announcing my plan to set up an advisory group on wellbeing. The group will provide expert advice and work with us to look at how we as the Government and school leaders as the employers can promote wellbeing among our dedicated teaching staff.

Happy, motivated, well supported teachers are more likely to have happy and motivated pupils in their classrooms and that, ladies and gentlemen, is why we're all here.
During 2019-2020 we will continue to follow the work of the Dfe's expert advisory group but also monitor the workload and Wellbeing of all our trainees to implement new wellbeing strategies and initiatives where necessary to create a positive and supportive culture.