DfE proposes £30,000 teacher starting salary by 2023
DfE proposes £30,000 teacher starting salary by 2023
14 March 2022 (by admin)
The DfE has proposed increasing the minimum teachers' pay rate by 16 percent over two years, raising the starting salary to £30,000 by 2023.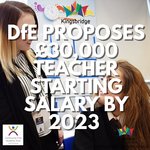 The Department for Education has urged a national pay body to recommend the starting salary for teachers reaches £30,000 by 2023 and admitted that a "significant" pay rise is needed to recruit and retain staff to the profession.
The DfE published its submission to the School Teachers' Review Body (STRB) today, as the deadline for recommendations closed.
In the submission, the department sets out a "roadmap" to reach a £30,000 starting salary for teachers, alongside evidence to support the STRB's consideration of the 2022 and 2023 pay awards for teachers, headteachers and other teachers in leadership positions.
In order to reach the £30,000 starting salary ambition, it has proposed an 8.9 per cent uplift to the statutory minimum (M1) for qualified teachers outside of London in 2022-23.
It has then recommended this be followed by a 7.1 per cent increase in 2023-24 to reach £30,000 within two years.
The Department for Education has said that a significant pay rise is needed to recruit new teachers
Share this: