£3k 'level up premium' to send 'best' teachers to in-need areas
£3k 'level up premium' to send 'best' teachers to in-need areas
7 October 2021 (by admin)
The government have announced a revised "levelling up premium" of up to £3,000 to send the "best" maths and science teachers to areas that "need them the most".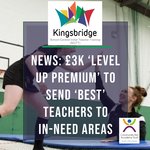 Education secretary Nadhim Zahawi said the payments will "support the recruitment and retention of specialist teachers in shortage subjects and in the schools and areas that need them most.
"We know that more than one in ten teachers from the most disadvantaged secondary schools leave to teach in other schools and we are determined to correct that by ensuring a competitive financial offer for teachers to drive up quality: levelling up opportunity with targeted investment.
"Levelling up premiums will make a real difference to schools across the country as we build back better from the pandemic."
Share this: